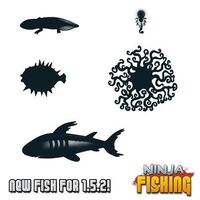 This update is coming soon in a couple of months. This update was announced January 11 2013 and will include these fish: a Phantom Shark, an Axolotl, a Giant Pufferfish, a Neon Plankton, and a Basket STar[might be a crown of thorns starfish?]

Please place any other info about this big update below:
THANK
YOU!
.2/18/13: The new fish are for Dinosaur Island and are the prehistoric counterparts of fishes from Shipwreck Cove and possibly, Tranquil Sea. There is also a SECOND poster for the New Fish For 1.5.2 and it features the rare Ahab Whale, a Dumbo Octopus, Cutlass Crab, a Gemini Eel, and a Frozen Tuna. The poster if on the Ninja Fishing Facebook page if anyone wants to post it here on this page, please do so!
.2/19/13 update RELEASED! New fish are in shipwreck cove, and 1 of the fish is the Ahab Whale!
.Bugs in update: sounds are kind of off, and drilling sound doesn't play at all.
.
.
.
.
.
.
.
.
.
.
.
.
.
.
.
.
.